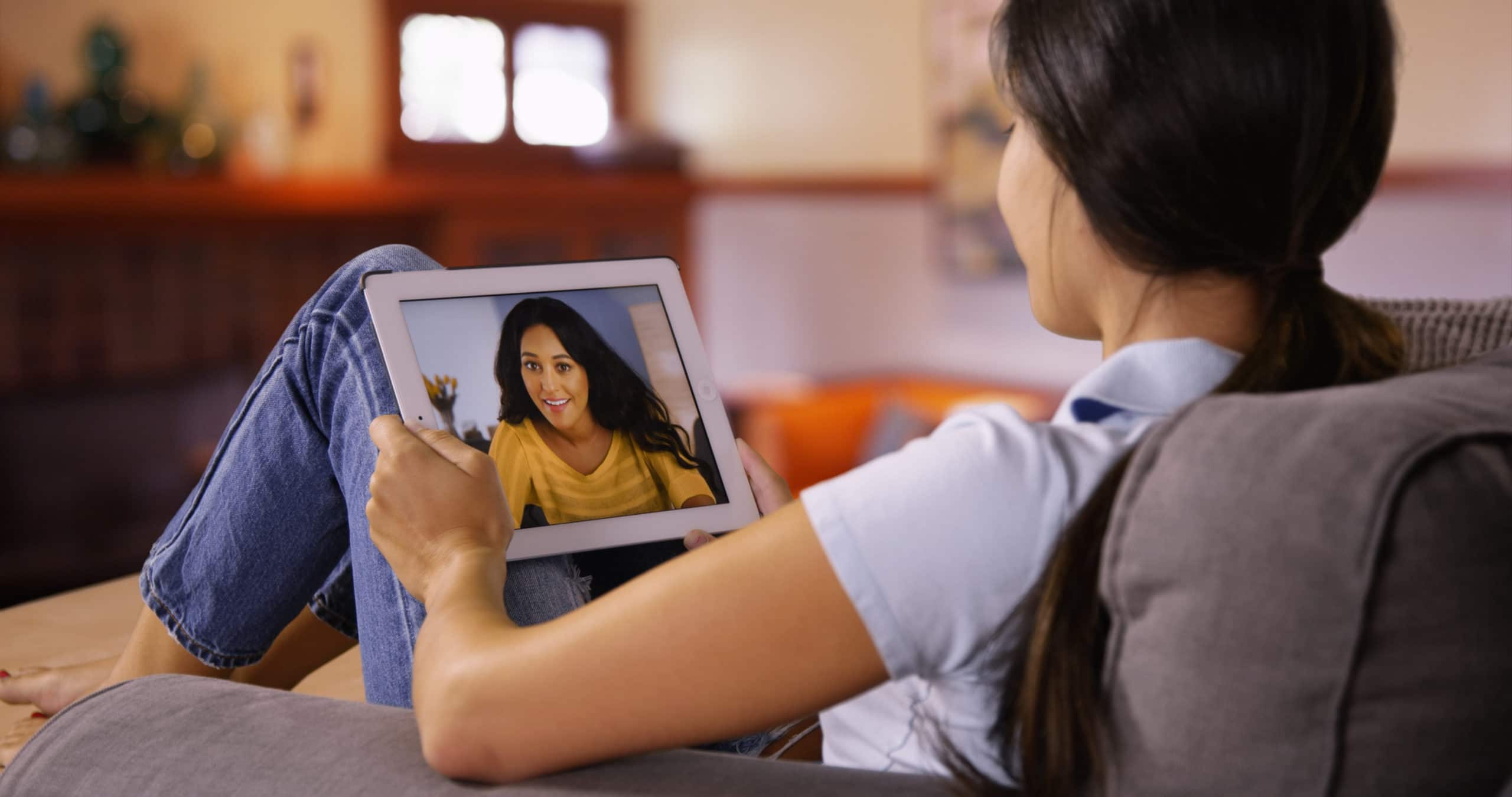 For many people, one of the most difficult things about current sheltering in place orders is not being able to see our loved ones. Weekly dinners with the grandparents, kids' playdates with friends, and happy hours with co-workers are all on hold.
But though we may be in isolation, that doesn't mean we have to be alone. Thankfully, technology has enabled many to see and reconnect with friends and family, if not in person, at least in sight.
To stay connected, you can use:
Video Chat Apps
If there's one thing that's made isolating at least somewhat bearable, it's been video chatting. Sure, we still communicate by phone or email. But there's just something about getting to actually see a person that makes the experience feel more connecting and personal.
Video chats with the grandparents and virtual happy hours are helping us to stay together, even while we're apart. More than that, it's even helping teachers to safely conduct classes for students outside the classroom. It's allowing patients to check in with their doctors. And, at least in some industries, for work to continue from home.
Depending on how often you decide to video chat, and with how many people, you have a range of video chat apps to choose from. There are numerous free options like Google Duo, Skype, or FaceTime, which offer basic features suitable for most video chatting needs. Or you can look into paid options when you need more advanced features or have to host a large group.
Video Devices
In recent years, the development of devices dedicated to offering a superior video chat experience has amped up. Today, the product lines devoted to video chat include tablet-style models like Facebook Portal, Google Nest, and Amazon Echo.
Each has its own unique bells and whistles. However, all video chat devices have been conceived to make video chatting more intuitive and convenient for users. They can include features like high-quality integrated cameras with automatic panning and zooming, easy-to-use controls (voice and touch), simple privacy settings, and stable display stands for hands-free use.
Or, you can just stick with your tried and true video-enabled smart phone, desktop, or laptop. With all of these options, tech-savvy or novice users alike should be able to find a device that makes them comfortable.
People Search
If nothing else, this time has shown us how important it can be to be connected with others. This includes connections from our past, as well as our present. But if you've lost touch with friends or family, it can be a challenge just locating them again, let alone actually reaching out.
For some past connections, you may have only scant information on them, maybe just a name or email address. However, you can use that limited information to find other current contact information related to it. Perform a people search by name, and you may be rewarded with that person's current phone number or address. Or do an email lookup to try and find the owner of that email address, along with their other contact information, possibly including current social media profiles.
With that contact information in hand, you have the ability to reach out and reconnect with someone in whatever way you deem most appropriate. If you haven't spoken in a while, you may need to work your way up to video. But it's there for you whenever you're ready to talk face-to-face.
For more information on ways to stay in touch and reconnect, during this time or anytime, be sure to check out other articles related to people search on the PeopleFinders blog.
image attribution: Rocketclips, Inc. – www.shutterstock.com