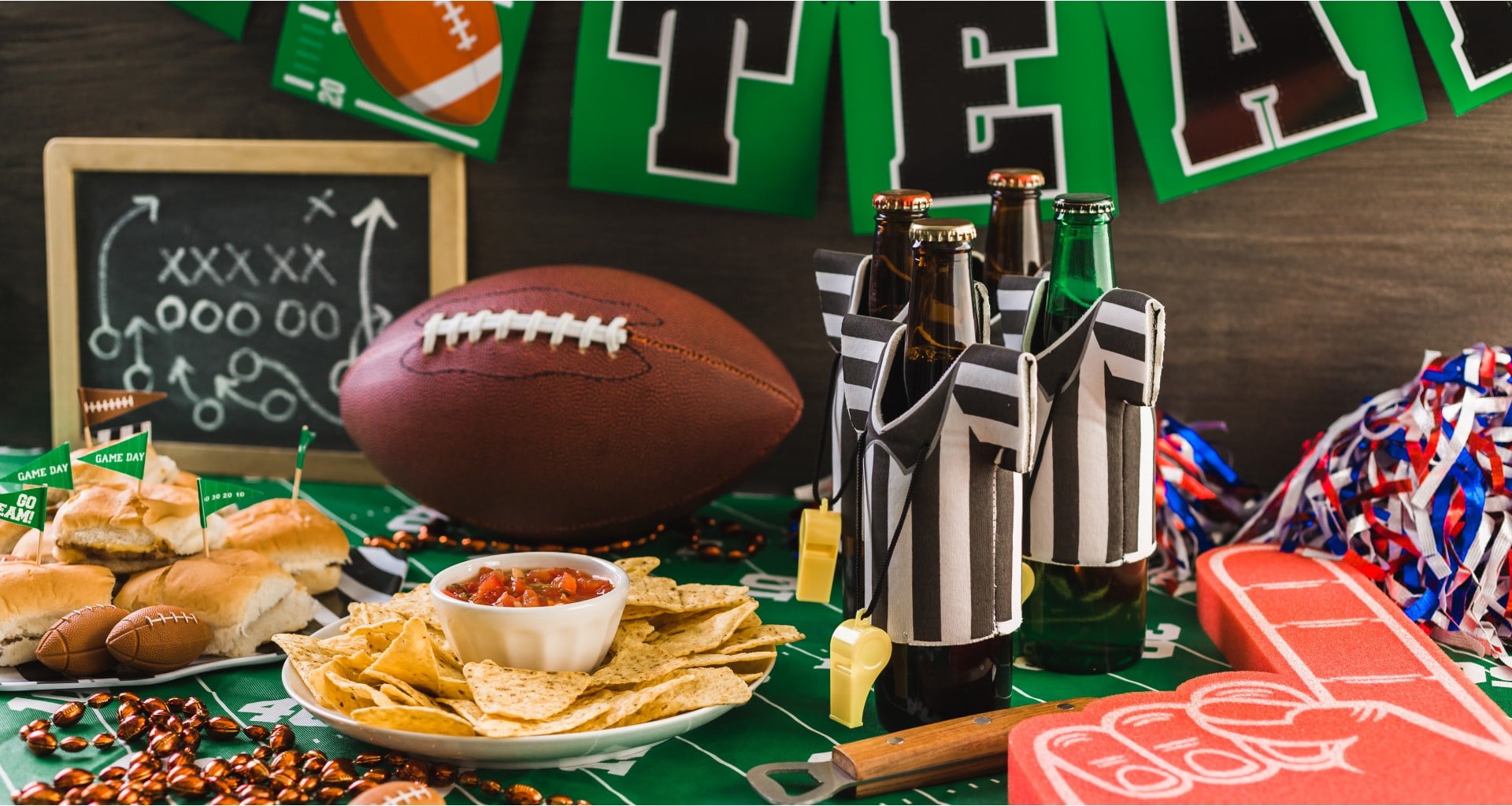 Super Bowl LIV is just around the corner. Even if you're not a big fan of the game itself, the Super Bowl is an amazing chance to get together with friends and family and have a great time rooting for whichever team you like more.
And no matter how you personally feel about the Super Bowl, chances are there's at least one superfan in your home. If you've decided to throw the Super Bowl party at your house this year, you'll want to make sure you get everything as perfect as possible.
So, how do you throw a great party for the Big Game?
-Set the mood with decorations.
-Food, food, and food.
-DVR the game.
-Get a good group together.
Decorate Right
Decorations are an important part of throwing any party, and that includes a Super Bowl party. Sure, your guests probably won't forget that football is the reason for the get-together. But they're still going to expect some serious football-themed decorations to help set the festive/competitive mood.
Obviously, football-themed decorations are a must: you can find snack platters shaped like footballs, garlands of football shapes, and bowls with painted-on footballs at your local superstore.
If you know that everyone at your party will be rooting for the same team, consider getting decorations for that team specifically. That can include everything from printouts of the team symbol to streamers with your team's colors. Just make sure you know everyone's allegiances, or you might make some of your guests feel a little uncomfortable.
Get Great Snacks
Snacks are definitely a big part of any Super Bowl party. They don't have to be extremely fancy or extravagant–many of the best snacks are finger foods that both kids and grown-ups will love–but it's still extremely important that they be tasty, whether you make them from scratch or grab some at the grocery store.
Sandwiches, hot wings, chips and dip, pizza, and so on can cater to a variety of tastes and any dietary limitations.
Even if cooking isn't really your thing, you should still try to make sure you have enough treats for everyone to enjoy. Some fast-food restaurants will cater Super Bowl parties directly. This can be a great way to get high-quality snacks and treats that you don't have to spend a lot of time preparing.
Record the Game If Possible
Nowadays, most people who have access to live TV also have access to DVR capabilities. If you're planning to watch the game through your TV service, try to also record it with your DVR if you have it.
The main reason that you want to make sure you record the game is that if anything happens that not everyone sees, you can skip back to see it. You can also pause if you need to do something, so you don't miss anything. And if there's a particularly memorable play or Super Bowl commercial that you really loved, you can keep it and have it available anytime you want to see it again.
Invite All the Right People
When it comes to your Super Bowl party, it's extremely important that you make sure you invite the right people. Some people like opening their homes up to just about everyone in the area. This can be fun, but it's important to make sure you stay safe anytime you do that. To make sure you only invite safe people to your Super Bowl party, start by using PeopleFinders.
With PeopleFinders, you can perform an address lookup to try and find out more about the neighbors in your area. Or perform a criminal records search to see if there's information that indicates a violent past. For even deeper information, a background check may help you to verify that you're only inviting safe people into your home.
Conclusion
A Super Bowl party can be a great time to get together with friends, family and acquaintances, and have a fun time rooting for your favorite football team. But in any situation where you have people over to your house, safety should definitely be your main concern. This Super Bowl, use PeopleFinders to try and make sure everyone at your party is safe to be around.
Image attribution: arinahabich – stock.adobe.com